NCHU Autopsied Dead Green Sea Turtle (Chelonia mydas) Species' survival threatened by marine pollution
2016-01-30 12:00:16
興新聞張貼者
National Chung Hsing University Autopsied Dead Green Sea Turtle (Chelonia mydas) Species' survival threatened by marine pollution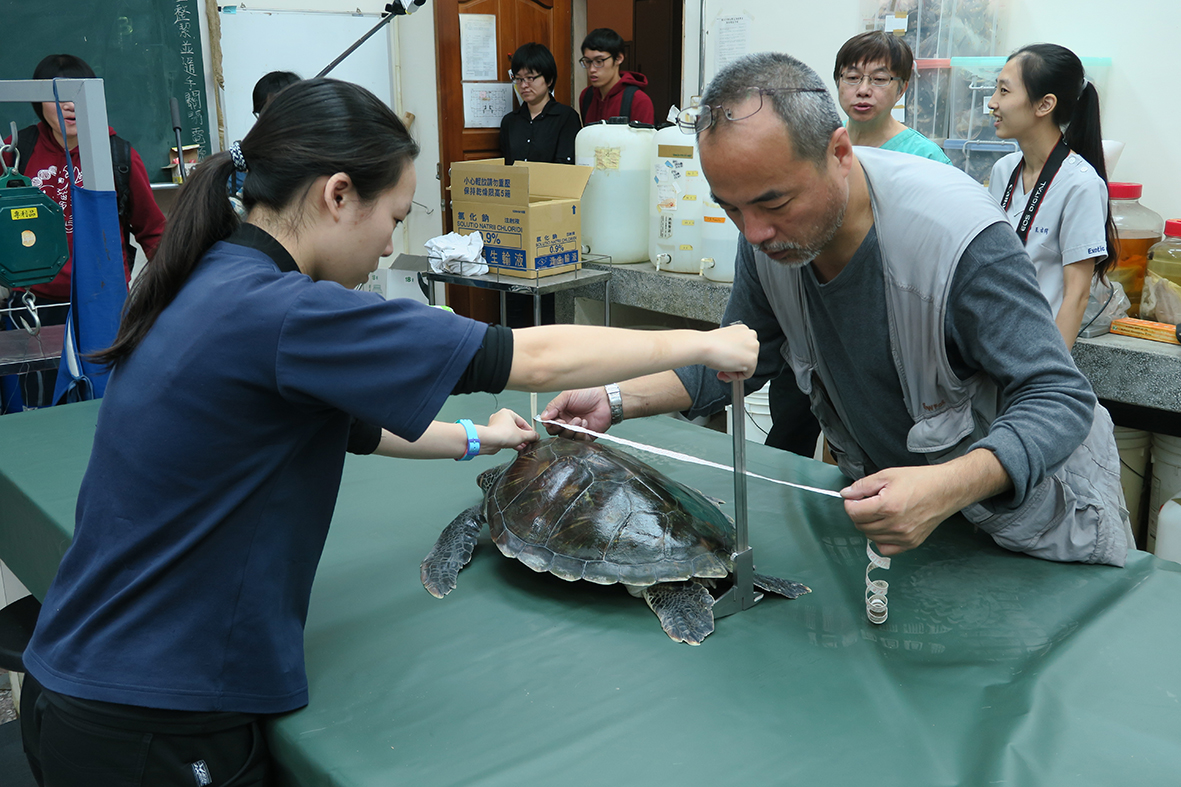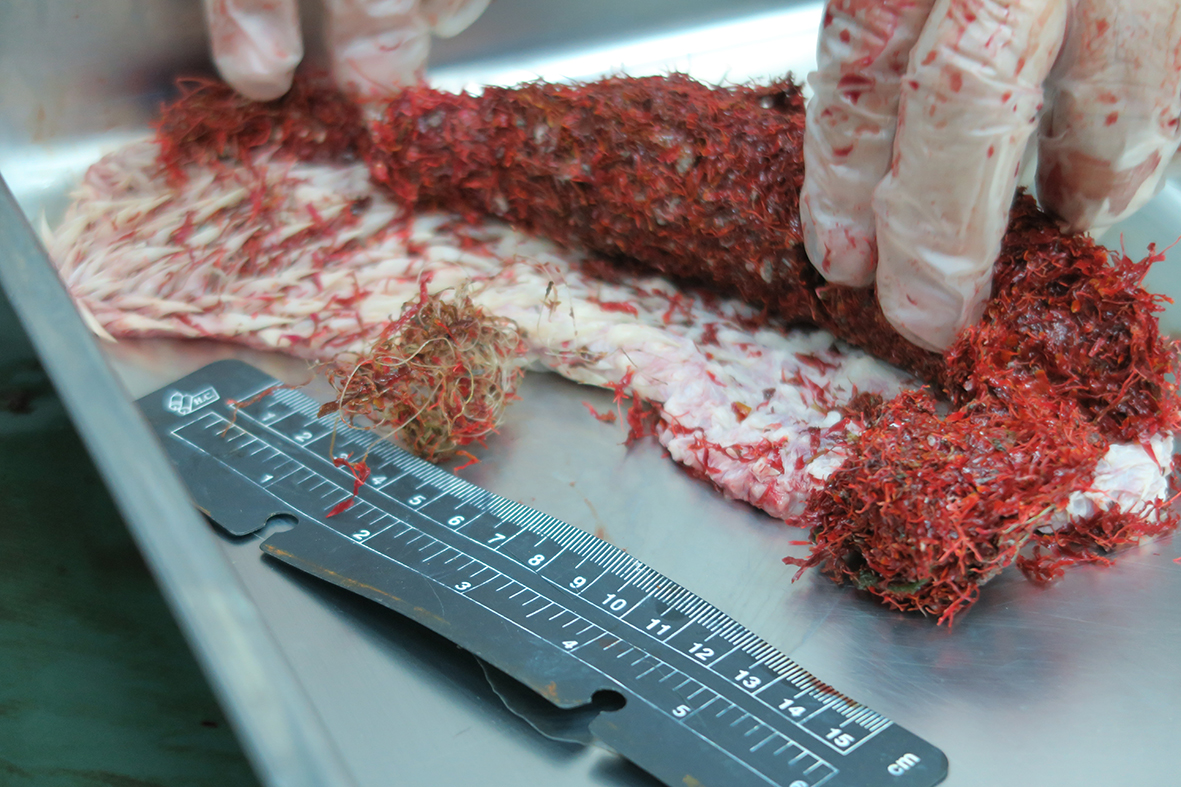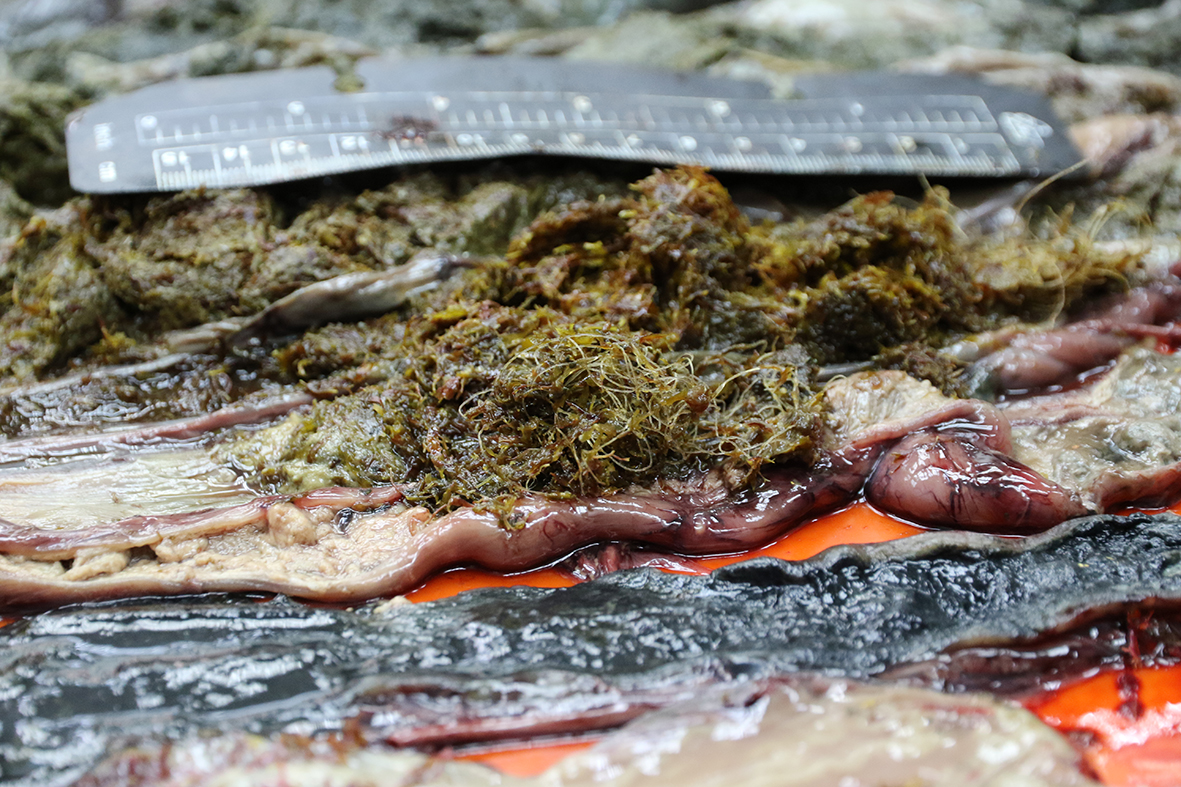 A dead green sea turtle was discovered on December 8, 2015 by the Kaohsiung Agriculture Bureau. The cause of death was unknown. A CT scan and the follow-up autopsy on the turtle performed by Professor Tung Kwong-Chung from the Department of Veterinary Medicine and professor Wu Sheng-hai from the Department of Life Sciences suggested that the turtle died of intestinal bleeding. Fragments of fishnets and plastic utensils were found in her esophagus and intestines. Researchers speculated that entangled fishnets resulted in intestinal bleeding, and the bleeding ultimately led to her death.
Professor Wu noted that the turtle, a female, weighing 11.5 kilometers, had a 44-cm carapace. She was discovered floating at sea in offshore Sizihwan by National Sun Yat-sen University. The CT scan revealed that the turtle had well-developed muscles and bone structure; but there was an unusual cavity in her intestines, and her lungs have collapsed. Several clots of entangled fishnets and plastic shards were found in her esophagus and intestines. Researchers deduced that these accidentally swallowed objects cut into the intestinal walls of the turtle, which led to massive bleeding that resulted in her death. Her skeletons were preserved and made into a zoological specimen, while her organs were stored in the solution to be shown in veterinarian medicine classes for teaching purposes.
Professor Wu noted that beaches across Taiwan were frequented by green sea turtles looking to lay eggs. Sightings were reported in Tamsui, Kenting, and Taitung. The turtles' eggs and egg-laying females were hunted as food in the past. As urban development quickly spread to rural and remote areas, nighttime lighting also grew more widespread along beachside regions, and sea turtles stopped visiting beaches to lay eggs. No sighting of egg-laying females in the island of Taiwan has been reported in recent years, with the exception of Lanyu, Hsiao Liouciou Island, and Wanan in Penghu. Green sea turtles are slow to mature, and will not reach sexual maturity until somewhere between 20 to 30 years of age. The dead green sea turtle was still a juvenile.
Professor Wu added that some of the greatest threats facing green sea turtle survival are: the loss of solitary egg-laying sites, marine pollution, discarded fishing gears, and the poaching of turtle eggs and the turtles. Marine debris found inside the juvenile's body was very likely the culprit of the turtle's death. Due to dietary differences, manmade debris accidentally consumed by different marine creatures also vary. The green sea turtles feed on seagrasses, and will likely ingest fishnets or plastic shards caught by the grass blades. The red sea turtles, on the other hand, feed primarily on jellyfish, and pieces of puzzles and the blue-and-white thongs have been found inside dead red sea turtles. Large gillnets erected along Taiwan's seashores have also caught sea turtles, who later died from suffocation.
Professor Wu said that just about every sea turtle species is facing extinction, yet conservation efforts are slow-coming to stamp out threats. Waste reduction, restoring seascapes back to their natural state, minimizing light pollution along the coasts, and using ocean-friendly fishing gears are helpful in restoring sea turtle populations in all of the Pacific.
Back