FEATURE: Movies highlight artisans, environment
Source:2017-12-06 / Taipei Times / By Lin Chia-nan / Staff reporter
FROM SPINE TO SKIN:In his documentary 'Bao Dao,' director Chan Chia-lung employs the names of human body parts to characterize a variety of geological features
Chu Chuan-li (曲全立), who this September released his latest work, Formosa 3D (美力台灣3D), says he has not changed his style, despite converting from a director of commercial TV shows to one devoted to environmental documentaries.
"I have never changed. I have focused on 'content' by playing with four elements — video, music, images and text," Chu told the Taipei Times.
A resourceful director who has produced numerous musical videos, TV commercials and variety shows, Chu, now 51, is also one of the nation's forerunners in developing 3D movies.
In 2013, he won the Harold Lloyd Award for 3D Taiwan, along with director Ang Lee (李安) for Life of Pi.
In 2002, Chu was diagnosed with a brain tumor that affected his sight, hearing and ability to eat.
After undergoing 28 hours of surgery, the left half of his body no longer functions properly.
"After the surgery, I felt I must seize the time to do what I want. On top of that, I got a coronary stent last year and more recently found that I have sleep apnea," he said. "I feel like I am about to die every night."
His latest documentary, Formosa 3D, which is to be screened nationwide from Dec. 22, offers viewers glimpses into the lives of more than 60 artisans and scientists, ranging from blacksmiths, puppet painters, straw sandal makers and bamboo steamer makers to researchers of butterflies indigenous to Taiwan.
Most characters in the film are just ordinary people, rather than well-known figures in their professions, Chu said.
When he set out to collect the stories of local artisans in 2008, he was rejected by many so-called masters, because he did not have a platform to broadcast his videos, Chu said.
"In hindsight, that was the best thing that happened," he said. "Ordinary people are more open and honest."
In the second part of the movie, Chu addresses marine pollution and overfishing by showing the beauty of the seas around Taiwan.
Only a beautiful land can nurture lovely people, he said.
"Loving Taiwan should not be reduced to a simplistic slogan," he added.
Chu's work is almost devoid of the generational conflict witnessed in Taiwanese society in recent years.
Straw raincoat maker Wu Tsao-ta (吳草塔) of Hsinchu County said he had dissuaded his children from inheriting his business, as he knows they would not be able to support their families.
Asked to address generational conflict, Chu's eyes instantly blurred with tears.
"I am a descendant of Chinese immigrants, just like late director Chi Po-lin (齊柏林)," Chu said. "I am frustrated and angered whenever I see people try to incite discord between ethnic groups."
"I want to leave more heritage, such as documentaries about the nation's natural and cultural landscapes, to the next generations," Chu said. "All I can do is document things. I am not good at writing or other things. I hope to present my works accumulated over the past 10 years to viewers with utmost sincerity."
One of the experts appearing in Chu's film, Chan Chia-lung (詹家龍), has also become a director and his latest work, Bao Dao (保島), premiered at Taipei's Spot Huashan Cinema on Friday last week.
Previously known for his discovery of the migratory route of Taiwanese milkweed butterflies, Chan is now a conservationist and a director of documentaries.
"Before I worked to protect butterflies, I did not like to talk to people much," Chan, 47, said. "Butterflies made me shut out the rest of the world, but they also broadened my view of the world."
To track the migratory route of butterflies, he used to catch them and leave identifying marks on their wings without caring too much about their pain, Chan said.
He did not become aware that was wrong until butterfly lovers challenged the way he treated the vulnerable creatures so carelessly, Chan said, adding that he was then compelled to modify his views on other living beings.
In Bao Dao, a work commissioned by the Forestry Bureau to document the nation's conservation areas, Chan employs the names of human body parts to characterize a variety of geological features.
The Central Mountain Range is compared to a spine, while rivers are portrayed as arteries. Forest wetlands are eyes; estuary wetlands are livers and kidneys; rain forests are lungs; and vegetation is skin.
Badlands are likened to the appendix. They are seemingly useless, but they also contain "seeds of life."
While many scenes are shot from a bird's-eye view — a technique also used in Chi's Beyond Beauty: Taiwan From Above (看見台灣) — Chan also offers thrilling closeups of the nation's wildlife.
He captures the moment a green snake opens its mouth and swallows a frog alive, with the scene blacking out immediately after the frog is eaten.
To make his work more dynamic than other environmental documentaries, Chan makes frequent use of time-lapse and high-speed photography.
"Some people asked me why the snake eating a frog scene is so fleeting," Chan said. "Actually, that is deliberately to make the viewer want to look for more."
While Bao Dao is largely about conservation areas and major wildlife habitats, it also includes a scene in which a monkey picks up a snack by a roadside, tearing open its plastic package to eat it.
The scene was not set up, it just happened while Chan was filming in Yushan National Park.
Taiwan is like a beautiful and vulnerable woman, Chan said.
"Its beauty is also derived from its vulnerability," he added.
After Chi's success with Beyond Beauty: Taiwan From Above, which reaped a record NT$200 million (US$6.66 million) at the box office, many photographers adopted aerial photography, but not everyone had a clear idea about what they wanted, Chu said, adding that "content" is far more significant than the techniques used.
While some critics have said Chi's work offers a simplistically utopian vision without probing deeper into environmental issues,
National Chung Hsing University professor Chiu Kuei-fen (邱貴芬)
considers it a success because it prompts people to identify with the "sublime" natural environment through its spectacular effects.
Mainstream movies are not necessarily inferior to independent films that highlight social movements, Chiu wrote in Regarding Taiwan: The New Taiwan Documentary (看見台灣:台灣新紀錄片研究).
Mainstream films go hand-in-hand with society's dominant forces, but they can also wrestle with those forces and help build the power of the public, she wrote, adding that the "politics" of documentaries should be examined in more nuanced ways.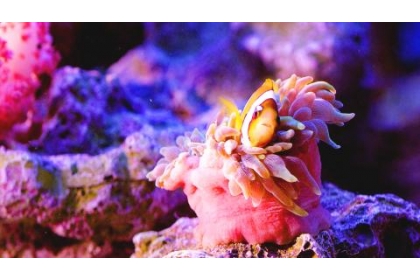 A clown fish photographed by a diver for the documentary Formosa 3D is pictured in an undated handout photograph. /Photo courtesy of Activator Marketing Co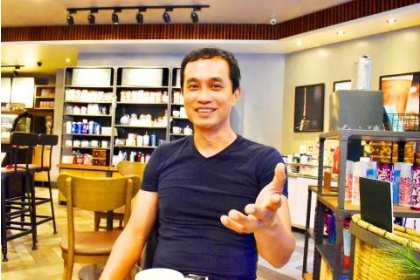 Bao Dao director Chan Chia-lung gestures in Taipei on Nov. 30. /Photo: Lin Chia-nan, Taipei Times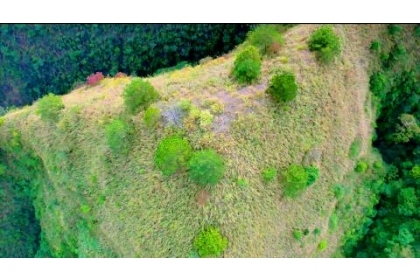 An aerial view of vegetation photogrpahed for the documentary Bao Dao is pictured in an undated photograph. /Photo courtesy of director Chan Chia-lung
Back