Scholars create agricultural sustainability group
Source:2018-01-21 / Taipei Times / Staff writer, with CNA, Singapore
Academics from Taiwan are playing a substantial role in the promotion of agricultural innovation and sustainability as they and like-minded scholars from around the world yesterday announced the establishment of the International Association for Agriculture Sustainability at Singapore Management University.
Wei Cheng-i (魏正毅), director of the University of Maryland's International Programs in Agriculture and Natural Resources, is the association's first president.
At the announcement event, Wei said that the challenges in the agriculture sector, which range from global food shortages to severe pollution, are not ones that any one profession or industry can solve.
Given agriculture's vital importance to economic development and human health, the world needs a non-profit, interdisciplinary and cross-sector platform that allows experts and scholars to share knowledge and experience and to work together to tackle such issues, Wei said.
That is the vision and mission behind the association, which is to bring together scholars from around the world to focus on challenges related to agricultural technology, eco-efficient economy, the protection of natural resources and other sustainability issues, he added.
The association includes academics and industry experts from Taiwan, the US, Finland, New Zealand, China, India, Thailand and Singapore.
Lee Tzong-ru (李宗儒) of National Chung Hsing University
, who is a member, said the platform plans to foster research and academic exchanges on policy and industry knowledge about sustainability that could lead to innovations in agricultural technology and sustainable energy.
The platform would also aid developing countries in their efforts to develop sustainable agriculture, Lee said.
Taiwan is thrilled to be a bridge for the association to reach out to similar efforts in the world and make a difference in sustainable agriculture, association secretary-general Fu Kuo-chang (傅國彰) said.
Agricultural exchanges are a key component of Taiwan's New Southbound Policy, Fu said, adding that the nation would continue to share its agricultural technology and skills with other countries.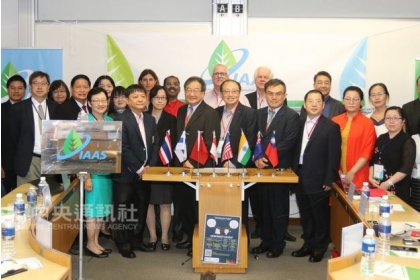 Back