Scientists can now measure biodiversity on a global scale
Scientists can now measure biodiversity on a global scale
Source:2018-1-23/UPI/SCIENCE NEWS/Brooks Hays
Source:2018-1-24/Iran Daily/UPI
Scientists in South Africa have identified an effective way to accurately measure biodiversity on a global scale.
Biodiversity is prized by ecologists and conservationists, but global warming and other man-made changes to the environment are diminishing the diversity found in plant and animal communities around the globe.
Stronger protections are badly needed, but to most effectively conserve biodiversity, scientists first need to know where it is.
Researchers at Stellenbosch University have developed new strategies to more accurately estimate the levels of biodiversity among little-studied regions, thus providing a more comprehensive global estimate of species diversity.
Until now, the best prediction models have only been able to take local survey samples and scale up two orders of magnitude.
As part of the most recent research effort, scientists challenged the international community of ecological model-makers to scale up 10 orders of magnitude.
Scientists tested the accuracy of more than a dozen new models using plant species data from the 1999 Great Britain Countryside Survey.
The models had to estimate Great Britain's plant diversity using samples comprising just six square kilometers, roughly 2.3 square miles. The simulations' results were measured against contemporary satellite surveys of species diversity in Great Britain.
Often, biodiversity is analyzed at very small scales, while conservation plans are created at large scales.
"This mismatch between the scales of our policies and of our data creates serious challenges, especially when assessing biodiversity change," William Kunin, an ecologist from the University of Leeds, said in a news release.
Better models could help scientists meet these challenges. The models tested by Kunin and his colleagues proved a mixed bag.
Great Britain hosts roughly 2,300 plant species, but models yielded simulations featuring anywhere from 62 to 11,593 species.
The most accurate model was one created by Fangliang He, from the University of Alberta, Canada, and Tsung-Jen Shen, a professor at Taiwan's
National Chung Hsing University
.
However, the model wasn't able to accurately scale up survey samples for areas smaller than Great Britain. The model designed by Stellenbosch's Cang Hui best accounted for the effect of a region's shape and size on species diversity.
Though there is room for improvement, the research -- published this week in the journal Ecological Monographs -- could help scientists better predict levels of biodiversity across larger, less-understood ecosystems.
"We have shown that mathematical modelling of biodiversity upscaling has come of age," Kunin said "These methods will greatly facilitate biodiversity estimation in poorly-studied taxa and regions, and the monitoring of biodiversity change at multiple spatial scales."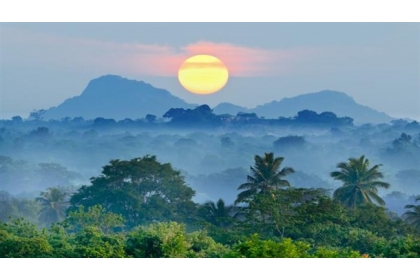 Back