Center for INGOs opens in central Taiwan, aims to become regional hub for NGOs
Source:2018-3-13/ By Teng Pei-ju,Taiwan News, Staff Writer
The center has already attracted two NGOs from Germany to open overseas offices
TAIPEI (Taiwan News) — A center for international non-governmental organizations opened Monday in the historic Guang Fu Village in Taichung City, and has already been designated as the location for the first overseas offices of two German NGOs specializing in search and rescue operations.
Vice President Chen Chien-jen (陳建仁) remarked that Taiwan was proud to have NGOs. Representing active civil engagement in Taiwanese society, the NGOs in Taiwan had been a constant force pushing for change in the country, and promoting participation in various global initiatives, said Chen.
With Taiwan currently facing a number of diplomatic challenges, NGOs served as an important means for the country to make friends across the world, added the vice president.
Chen also mentioned that thanks to the Taichung City Mayor, the historic site Guang Fu Village had been given a new life and could become the most progressive and diverse NGO hub in the region.
The Guang Fu Village was a residential area specifically built for officials working for the now-abolished provincial government and their families.
On its opening day, the center for INGOs already welcomed two organizations from Germany, specifically International Search And Rescue Germany (I.S.A.R. Germany) and BRH Bundesverband Rettungshunde e.V. (BRH), which had chosen the site for their first overseas office.
According to the Ministry of Foreign Affairs (MOFA), BRH is the oldest and biggest institution for training and caring for rescue dogs in Germany. The institution assisted in the rescue missions after the devastating 921 Earthquake hit Taiwan in 1999, added MOFA.
The Taichung City Government said it signed a Memorandum of Understanding with BRH in 2017 to facilitate exchanges between rescue teams on training and actual tasks.
On Monday, Taichung's
National Chung Hsing University
, which established the country's first department of veterinary clinical science, also signed a MOU with I.S.A.R. Germany with the hope of increasing mutual cooperation and providing better care for the city's rescue dogs, according to the city government.
Taichung Mayor Lin Chia-lung (林佳龍) commented that through cooperating with the two German NGOs, the city would be better prepared to respond to disasters, and have more opportunities to interact with the international community.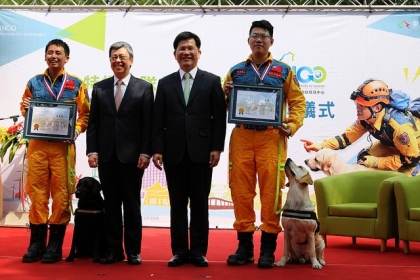 Vice President Chen Chien-jen (center-left) and Taichung Mayor Lin Chia-lung (center-right) at the opening ceremony of the center for INGOs (Photo courtesy of the Presidential Office)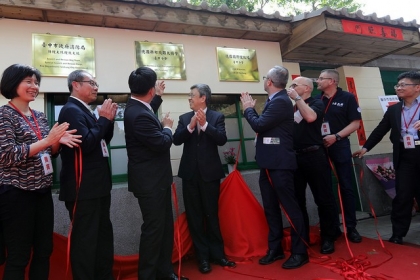 Vice President Chen Chien-jen (center-right) and Taichung Mayor Lin Chia-lung (center-left) at the opening ceremony of the center for INGOs (Photo courtesy of the Presidential Office)
Back