Spending all her holidays free time in the Museum of Natural Science had her made it to the NCHU in the
Tien-Ai Chu(朱天愛), who goes to school at Chungming senior high school in Taichung, was admitted to the Department of Life Science of National Chung Hsing University (NCHU) through the "special talent recruitment" this year. She is now admitted to the Life Science Department. Tien-Ai Chu(朱天愛) is a native of Zhushan, Nantou. She enjoys the nature from young and always carries a sketchbook with her doing sketches of animals and live plants , after which, she goes to the library and check the encyclopedia. The reason for her choosing Chungming senior high school is in fact that the school is located really close to the national museum of natural science.
Tien-Ai Chu's father is a swimming instructor and her mother is an English tutor. The whole family loves nature. She has followed her parents to river tracing, rock climbing, rafting, mountain climbing, getting close to nature and be attracted to all kinds of animals and plants. During her youth, it was uncommon to go online using a cell phone, so she would sketch what she encounters on a sketch book, while taking notes so that she can check with the encyclopedia afterwards.
She said that traveling from Zhushan to the national museum of natural science is far away. It takes 2 hours for a one-way trip and 4 hours for a round trip. It takes a lot of time to commute from home to the museum just to be closer to gain knowledge on natural science.
Tien-Ai Chu rented a house for 3 years and stayed near the school. Most of her holiday free time was spent in the museum and she even signed up for volunteering service there. She worked at the "physics world" at the museum as a tour guide for one and half years, in total she served 142 hours. She likes to share science knowledge with children. Sometimes when she was not able to explain very comprehensively and happened that the experts and professors were with the tour, they would elaborate and that would make her more than happy, as in her view, she benefited from gaining knowledge from her job.
Tien-Ai Chu's academic performance in the class is not among the top. She did not score well for English and Chinese subjects. However, she is patient enough to do experiments all day for the mechanical competition and science exhibition contest, and she eventually managed to won a second runner up the respective citywide contests.
Tien-Ai Chu wants to be in the research field in the future, and she has chosen NCHU because her dream is to work as a research in the national museum of natural science or to work in the laboratory one day to contribute to in the research of science and technology.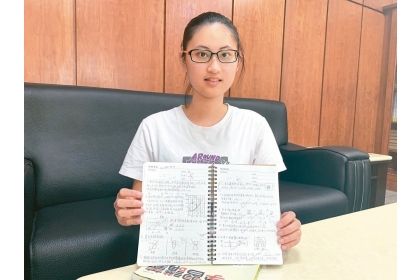 Back