Fragrance wafting out from hundred clay tea caddies – National Chung Hsing University holding a tea caddy show to celebrate its 100th birthday
National Chung Hsing University (NCHU) joyfully celebrated its 100th birthday. From October 26 through November 13 at Datun Cultural Center in Taichung City, NCHU Alumni Association held an exhibition named "Fragrance wafting out from hundred clay tea caddies – 100th Anniversary Celebrations of NCHU and Tea Caddy Show". 37 renowned ceramicists including Kun-Pei Chu (朱坤培) and Rung-Yu Tsai (蔡榮祐) were invited to exhibit their original clay tea caddy works - 136 works in total. All the works were furnished for public sale after the exhibition to raise money which was further offered for NCHU 100th-anniversary celebrations.
Master Rung-Yu Tsai is a Taiwanese modern ceramicist having dedicated his life to the ceramic art for 44 years. He and his two sons, Chao-Ching Tsai and Chia-Hung Tsai, his son-in-law, Hsuan-Han Sung, and his grandson, Miao-Chuan Tsai, total 5 family members in 3 generations had total 20 works displayed in the exhibition.
Chi-Chang Tsai (蔡其昌), Chairman of NCHU Alumni Association and Vice President of Legislative Yuan, said, "National Chung Hsing University is second to none on the research and promotion of tea industry. This time the University combines its research and promotion with modern ceramicists' hand-made clay tea caddies to achieve overall coverage to further get deeply to the level of tea culture. "Clay tea caddy" was selected as the topic of the celebrations for a certain special meaning. The word "caddy" is "倉" in Chinese character which has been recognized as a symbol of "prosperity" and "infinite possibility", and here it symbolizes hundreds of prosperous years starting from this 100th anniversary. "Caddy" is also a storage container. Over the past 100 years NCHU has successfully educated many outstanding alumni. These caddies are the best for them to store their best memories on campus no matter in the young school years or during those days when they return from the experienced workplace to pursue further study."
NCHU President Fuh-Sheng Shieu pointed out that the strong alumni organization had always been the largest kinetic energy to support our school. He thanked all the alumni for their positive feedback and assistance to alma mater. On this occasion NCHU integrated its history, culture and art into tea industry with the help of alumni's brainstorm, and poured rich cultural deposits into its 100-year school history by means of advanced ceramic art and aesthetics.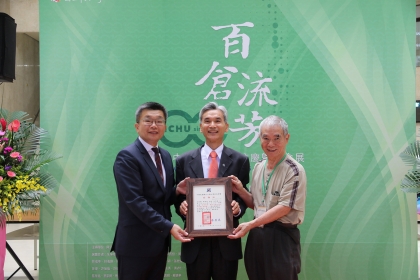 Fragrance wafting out from hundred clay tea caddies – National Chung Hsing University holding a tea caddy show to celebrate its 100th birthday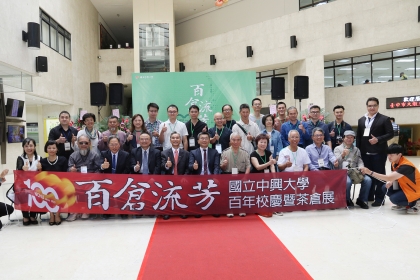 Fragrance wafting out from hundred clay tea caddies – National Chung Hsing University holding a tea caddy show to celebrate its 100th birthday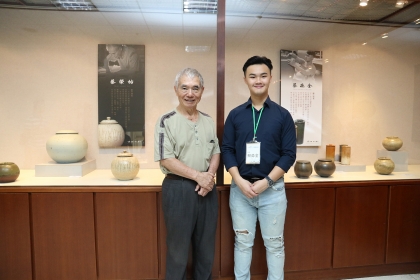 Fragrance wafting out from hundred clay tea caddies – National Chung Hsing University holding a tea caddy show to celebrate its 100th birthday
Back