National Chung Hsing University and India's Mizoram University Sign Virtual Agreement to Deepen Sister University Exchange
Source: Office of International Affairs, NCHU /Translated by Paki Huang and Adam Shih
Owing to the COVID-19 epidemic, the actual international collaboration and activities has been sharply reduced in the recent days. Through the virtual signing ceremony, National Chung Hsing University and Mizoram University of India has signed an agreement on the student exchange and academic collaboration. Hosted by the Vice Chancellor, Professor K.R.S Sambasiva Rao and the President of National University, Dr. Fuh-Sheng Shieu, the signing ceremony has achieved a great success and reached a breakthrough of international connection between two countries. Both parties have expressed their gratitude and optimism for the success of the virtual contract signing, and also scheduled to maintain a more tangible relationship through the recommendation of student exchange.
Led by Professor Mu-Min Chen, former Vice-President for International Affairs, the delegates of National Chung Hsing University have visited the only university in the Northern East of India-Mizoram University on 22 November 2019. The visiting faculty member also includes Professor Wen-Ling Deng, Director of the Division of Foreign Student Affairs, Professor Chien-Der Chen of Department of Agronomy, and Professor Hannes Bergthaller of Department of Foreign Languages and Literatures. Back in the days, Mizoram university has heard about the reputation and strength of Taiwan's tertiary education, but had never had an opportunity of exchange with any university in Taiwan.
Mizoram province in India covers an area of 20,000 square kilometers and is extremely rich in natural resources, suitable for agricultural development. With a population of only 1 million, it is the most northeastern and smallest province in India, yet it has the highest literacy rate (95%). With English as the main language, Mizoram has the highest percentage of Christians in the world and is a very livable city with the safest living environment and lowest crime rate. Locals are especially looking forward to Taiwan's assistance in planning agricultural products suitable for local development, especially tea and bamboo processing.
According to statistics of the Ministry of Education, more than 2700 Indian students have come to Taiwan to study. In light of Mizoram's expectations on natural resources protection and environmental development, NCHU hopes to strengthen the bond with Mizoram and to gain the exposure in the overseas study market by signing a Memorandum of Understanding to take advantage of the key academic strengths in animal, plant and agricultural biotechnology.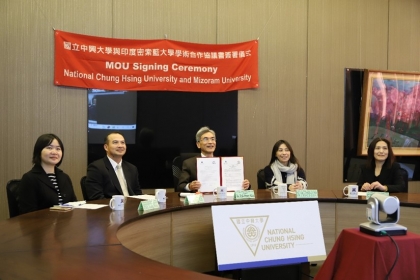 (From Left to Right): Secretary for International Affairs Ms. Chia-Jung Sung, Deputy Vice President for International Affairs Dr. Hsi-Harng Yang, President Dr. Fuh-Sheng Shieu, Vice President for International Affairs Dr. Chia-Lin Chang, and Director of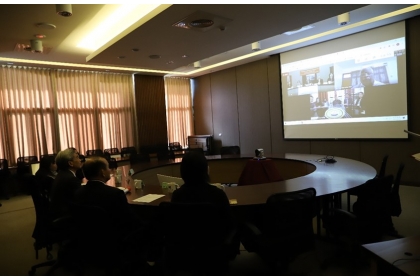 Distinguished Delegates of National Chung Hsing University having a virtual ceremony with Sister School Mizoram University of India.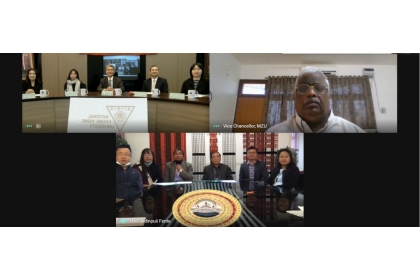 (Upper Right): Vice Chancellor, Professor K.R.S Sambasiva Rao (Below): Honorable Guests from Mizoram University, including Pro.Vice Chancellor Prof. JK Patnaik, Registrar Prof. Lalnundanga; Director of International Students Centre & Collaborations (ISCC)
Back