National Chung Hsing University and USB in the Czech Republic Sign Virtual Agreement to Deepen Sister University Exchange
2021-04-13 09:28:25
興新聞張貼者
Source: Office of International Affairs, NCHU /Translated by Christina Cheng and Adam Shih
Due to the COVID-19 pandemic, the actual international collaboration and activities have been drastically reduced in recent days. Director of Science and Technology Division, Dr. Hong-Wei Yen (Taipei Economic and Cultural Office, Prague), start to facilitate the cooperation between National Chung Hsing University (NCHU) and the University of South Bohemia in the Czech Republic (USB) at the end of the Year 2020. Since Dr. Yen has maintained a fever hope that universities in Taiwan could have developed deeper cooperation with USB in their common area of expertise – Agriculture, NCHU is thus recommended and introduced to USB as a research partner for the agricultural profession. After initial online meetings, the discussion between NCHU and USB has laid a basis for signing a cooperation agreement.
On March 29th, 2021, the Rector of USB, Mr. prof. PhDr. Bohumil Jiroušek, Dr., and the President of NCHU, Dr. Fuh-Sheng Shieu, eventually signed a Memorandum of Understanding (MOU) via a virtual ceremony. Both universities have expressed their gratitude and optimism for the success of the virtual contract signing, scheduling to maintain a more tangible relationship through the academic and research cooperation.
Under the witness of our special guest of the ceremony, Dr. Yen, an NCHU research team of Biological Control will be formed and led by Vice President of NCHU, Distinguished Professor Jenn-Wen Huang, and Dean of College of Agriculture and Natural Resources, Distinguished Professor Fuh-Jyh Jan, to establish a relatively formal contact with USB in the Czech Republic. Both parties would aim at jointly applying for Taiwan-Czech research projects in the future to aggregate mutual academic accomplishments between the two countries.
This agreement between National Chung Hsing University and the University of South Bohemia in the Czech Republic will begin with a focused collaboration on biological control. The joint research will extend to other related fields in the future.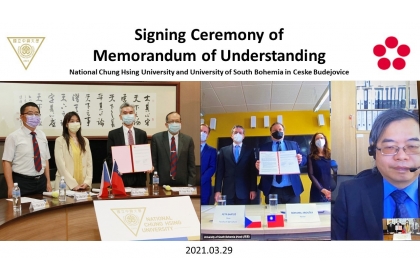 (From Left to Right): (NCHU Delegates) Dean of College of Agriculture and Natural Resources Dr. Fuh-Jyh Jan, Vice President for International Affairs Dr. Chia-Lin Chang, President Dr. Fuh-Sheng Shieu, and Vice President Dr. Jenn-Wen Huang (USB Delegates)
President Dr. Fuh-Sheng Shieu signed the Memorandum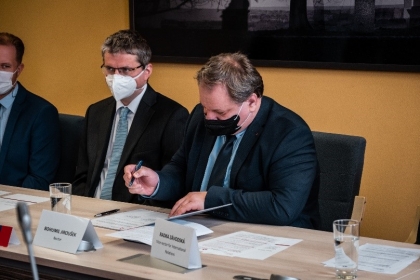 Rector Dr. Bohumil Jiroušek signed the Memorandum
Back