New Belizean Ambassador Dr. Candice A. Pitts Visits National Chung Hsing University to Promote International Cooperation in Tertiary Education between Taiwan and Belize
2021-05-10 17:18:54
興新聞張貼者
Source: Office of International Affairs/Chun-Han Shih
Dr. Candice A. Pitts, the new ambassador of Belize, one of Taiwan's friendly nations in the Caribbean, was introduced by the Director-General of Information Bureau of Kaohsiung City Government, Mr. Chien-Hung Tung, to visit the President of National Chung Hsing University at 2 p.m. on April 29 (Thursday). Being impressed with the strengths and characteristics of NCHU in the field of agriculture and biotechnology, Ambassador Dr. Pitts has determined to schedule the online meeting in which the students can be encouraged to share their afterthoughts and feedbacks regarding the memorable days at NCHU and in Taiwan, so as to build up the reputation and popularity of our university.
On the very occasion, President Dr. Fuh-Sheng Shieu and Dr. Chia-Lin Chang, Vice President for International Affairs, received Ambassador Dr. Pitts and her Executive Secretary on behalf of the university. Other participants include Dr. Wen-Ling Deng, Director of the Division of Foreign Student Affairs, Dr. Shaw-Yhi Hwang, Director of International Master Program of Agriculture, and Dr. Chifumi Takagi and Dr. N.S. Talekar from the same program.
Ambassador Dr. Pitts said that Belize is the only English language-speaking country in Central America, and their exclusively outstanding students have always been keen on traveling to Taiwan through the recommendation process of the International Cooperation and Development Fund (ICDF). The Belizean students in Taiwan not only improve their academic and research professionality, but also help Taiwanese students increase their awareness of multicultural contexts. This is in line with the educational objectives of the Ministry of Education's "Bilingual Learning Program for College Students".
Embassy of Belize has scheduled to cooperate with the Central America Trade Office (CATO) to hold online meetings in the future, inviting the Belizean students in connection with ICDF to share their study experiences. NCHU is well-known for its top-tier areas of expertise in agriculture and biotechnology and was also invited to participate in the meeting to strengthen our efforts of online student recruitment.
For both sides, this meeting was warm, meaningful, and constructive. Embassy of Belize looks forward to continuing the academic and cultural exchanges with NCHU, linking the tertiary education policies of Taiwan and Belize, and implementing the principle of equality and reciprocity in academic cooperation and exchange. As the graduation season is approaching, NCHU has invited Ambassador Dr. Pitts once again to the 109th commencement on June 5th to congratulate all the graduating students.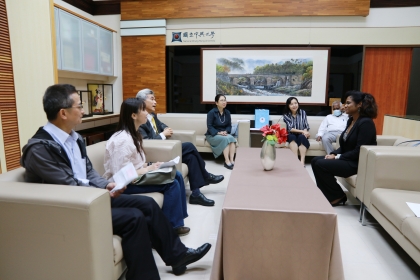 New Belizean Ambassador Dr. Candice A. Pitts Visits National Chung Hsing University to Promote International Cooperation in Tertiary Education between Taiwan and Belize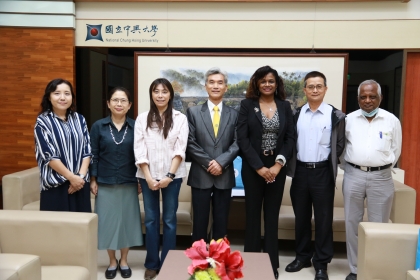 New Belizean Ambassador Dr. Candice A. Pitts Visits National Chung Hsing University to Promote International Cooperation in Tertiary Education between Taiwan and Belize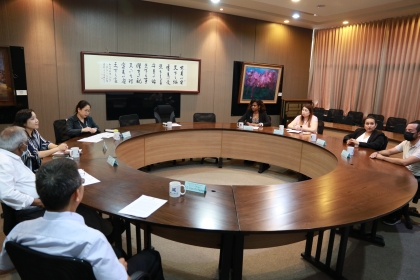 New Belizean Ambassador Dr. Candice A. Pitts Visits National Chung Hsing University to Promote International Cooperation in Tertiary Education between Taiwan and Belize
Back