Announcement on Student Recruitment of the Department of Post-Baccalaureate Medicine-NCHU, the One and Only National Department of Post-Baccalaureate Medicine in Central Taiwan
The Department of Post-Baccalaureate Medicine, National Chung Hsing University initiates student recruitment this year to be not only the national Department of Post-Baccalaureate Medicine in central Taiwan but also the one and only medical institute in Taiwan that cooperates with two medical centers. National Chung Hsing University held an enrollment press conference on March 11, announcing that it is expected to recruit 23 state-financed students, divided into two groups of which Group A will enroll 21 students and 2 indigenous students in Group B. The admission places of the two groups can be interchanged with each other. Those who have graduated (including recent graduates) from domestic or overseas public or registered private universities recognized by the Ministry of Education with a bachelor's degree or above are qualified for application.
Department of Post-Baccalaureate Medicine NCHU is fully supported by hospitals in the central region of Taiwan, including Taichung Veterans General Hospital, Changhua Christian Hospital, Tungs' Taichung MetroHarbor Hospital, and Show Chwan Health Care System to be the teaching hospitals of National Chung Hsing University. Students starting at year 3 are required to be educated and trained professionally at the four teaching hospitals where students go to further knowledge and skills in relation to medicine.
As NCHU President Fuh-Sheng Shieu said, the establishment of the Department of Post-Baccalaureate Medicine and the College of Medicine is a vocation, which will bring about structural changes to the future development of National Chung Hsing University. National Chung Hsing University, except for National Taiwan University, is the only university in Taiwan able to promote "One Health" by providing medical education incorporating the three fields-human health, animal health, and environmental health. In particular, with full support from the four hospitals referred to hereinabove, it is believed that NCHU will open a new era of medical education in Taiwan.
The entrance examination for the Department of Post-Baccalaureate Medicine NCHU will be conducted in two stages. The first stage is a written examination that, as scheduled, will be available for application from March 30 to April 11, then held on April 24 for the subjects including English, General Biology, Introductory Biochemistry, Physics, and Chemistry. Based on the merit of the written examination, candidates will be invited for an interview as the second stage of the process the second stage selected depending on their written examination scores to participate in the examination of the second stage (interview and data review). Specifically, the second stage includes a review of application documents and an interview; the former comprising an official undergraduate transcript and grade ranking certificates over the years, autobiography and statement of purpose, English proficiency test certificates, and other materials that would be useful to the Committee, such as professional work achievements, job performance, and award records. The application for invited candidates for the second stage is available from April 29 to May 2. The interviews will be held on May 7 and May 8, and the results of admission will be announced on May 12. The candidate's selection will be based on written examination (60%), review of application documents (10%), and interview (30%).
The purpose of the Department of Post-Baccalaureate Medicine NCHU is to recruit university graduates to receive medical education at the Department, so as to cultivate medical students of diverse backgrounds, comprehensive humanistic caring literacy, and scientist spirit, and to improve the quality of medical care for remote villages and indigenous people in central Taiwan. In addition to the cultivation of the medical professional ability provided by the compulsory professional courses, multi-faceted elective courses are specially designed as the course features, named "module course", containing three modules comprising holistic medical care, smart medical care, and precision health to help students explore the development of different fields.
The state-financed medical students, after graduating from the Department of Post-Baccalaureate Medicine NCHU, shall be required to fulfill 8-year service in total, that is a period equal to the years of receiving the state-financed benefits (4 years) plus another 4 years. After completing the specialist physician training, state-financed physicians may apply to the Ministry of Health and Welfare for sub-specialty training and further education. The training or service period shall be recognized as a part (2 years maximum) of the length of service.
※ Admissions website of the Department of Post-Baccalaureate Medicine NCHU:
http://nchu.cc/6qAWQ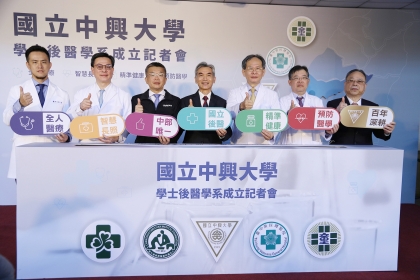 Announcement on Student Recruitment of the Department of Post-Baccalaureate Medicine-NCHU, the One and Only National Department of Post-Baccalaureate Medicine in Central Taiwan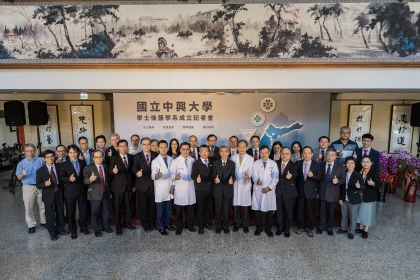 Announcement on Student Recruitment of the Department of Post-Baccalaureate Medicine-NCHU, the One and Only National Department of Post-Baccalaureate Medicine in Central Taiwan
Back