NCHU COVID-19 Case Tracking-0515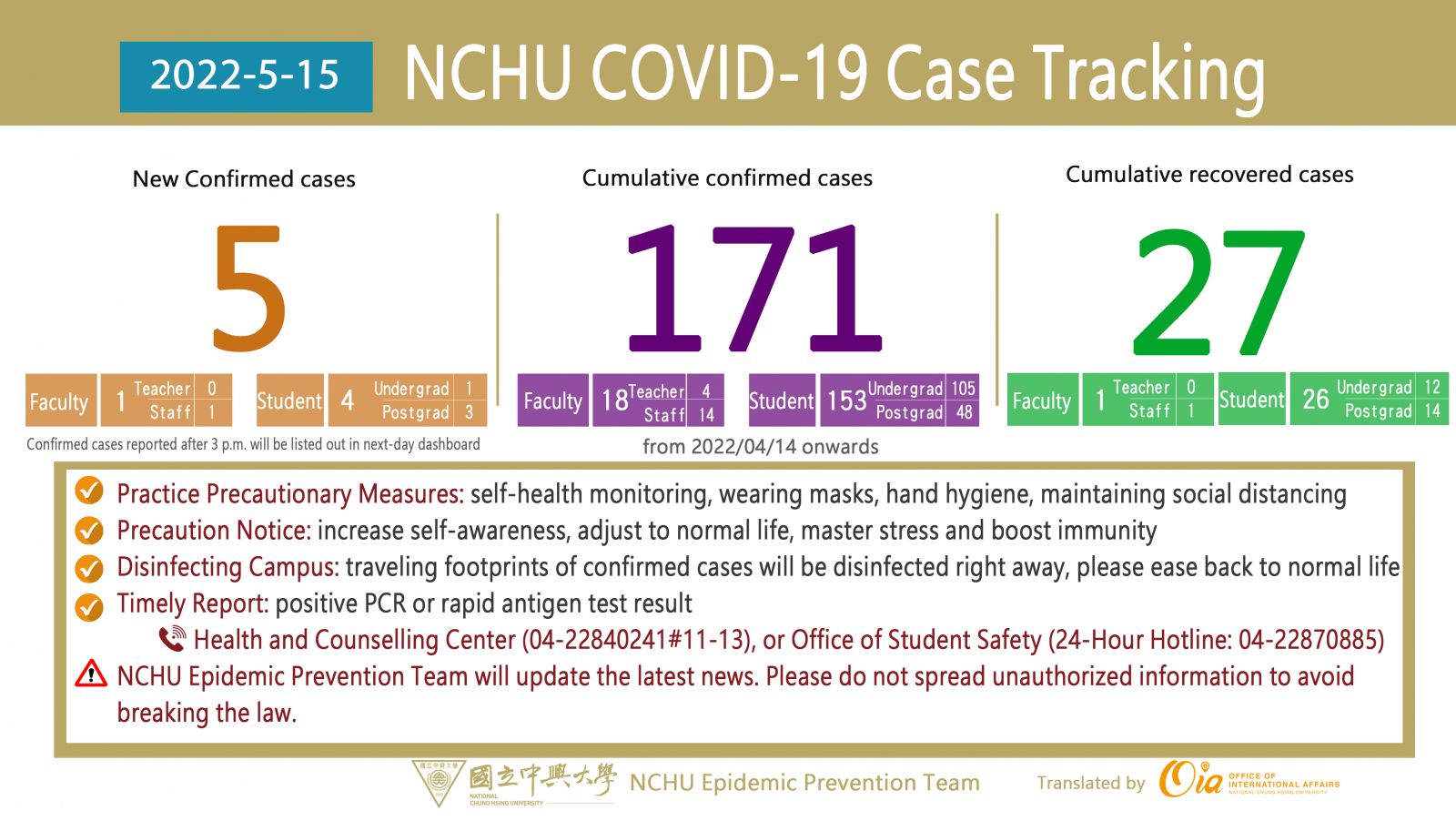 Notice:
Among the newly confirmed cases today,

2 cases are caused by the inevitable risk of attending sports events

. To relieve the epidemic trend,

please be sure to cooperate with the following matters:
(1) To maintain the health and safety of teachers and students, except for meals, wear a mask when studying or working in the lab.
(2) Please take the initiative to avoid eating together when lecturers/students have any symptoms of discomfort taken place to reduce the risk of transmission; Teachers or students dine in the lab or office, please reduce talking as much as to each other. Advice for eating first, and then chatting after dining. Wear a mask before talking and keep your distance between meals.
(3) Hosting events or meetings, please do not share food, so as participants are infected and diagnosed in the future and cause the spread of the epidemic.
(4) Because of the confirmed cases in athletes from National University and College Athletic Games and University Basketball Association, there are several NCHU attendees testing positive so far. If suspected symptoms develop in the following 3 days, please take a rapid antigen test right away; if testing positive, please report at once.
There were several confirmed cases in certain dormitories on campus, which conformed with the university's definition of COVID-19 transmission chains of unknown origin among dormitories, thus the whole building shall conduct self-health monitoring from 4 p.m.13th May 2022 for one week.

With the recent rapid increase in confirmed cases in Taiwan, a high proportion of the NCHU confirmed cases had a behavior of dining together,

please do pay attention to personal preventative measures. Apart from complying with rules like wearing face masks and washing hands frequently,

we strongly recommend avoiding unnecessary dining or gatherings until the end of May 2022.

Please do your part to reduce the rapid transmission of the virus in order to help maintain sufficient medical resources in Taiwan.

Individuals who test positive from either antigen tests or PCR must report to the Office of Student Safety (24-Hour Hotline: 04-22870885) immediately

so that the school can conduct follow-up epidemic prevention management and epidemic investigation. If there is no special reason for delaying the reporting of confirmed cases, which seriously affect the safety of campus epidemic prevention, the punishment may be discussed in accordance with the Regulations for National Chung Hsing University. Student Rewards and Penalties (Article 9, paragraph 3) and will be aggravated punishment depending on the circumstances.
Back