NCHU COVID-19 Case Tracking-0606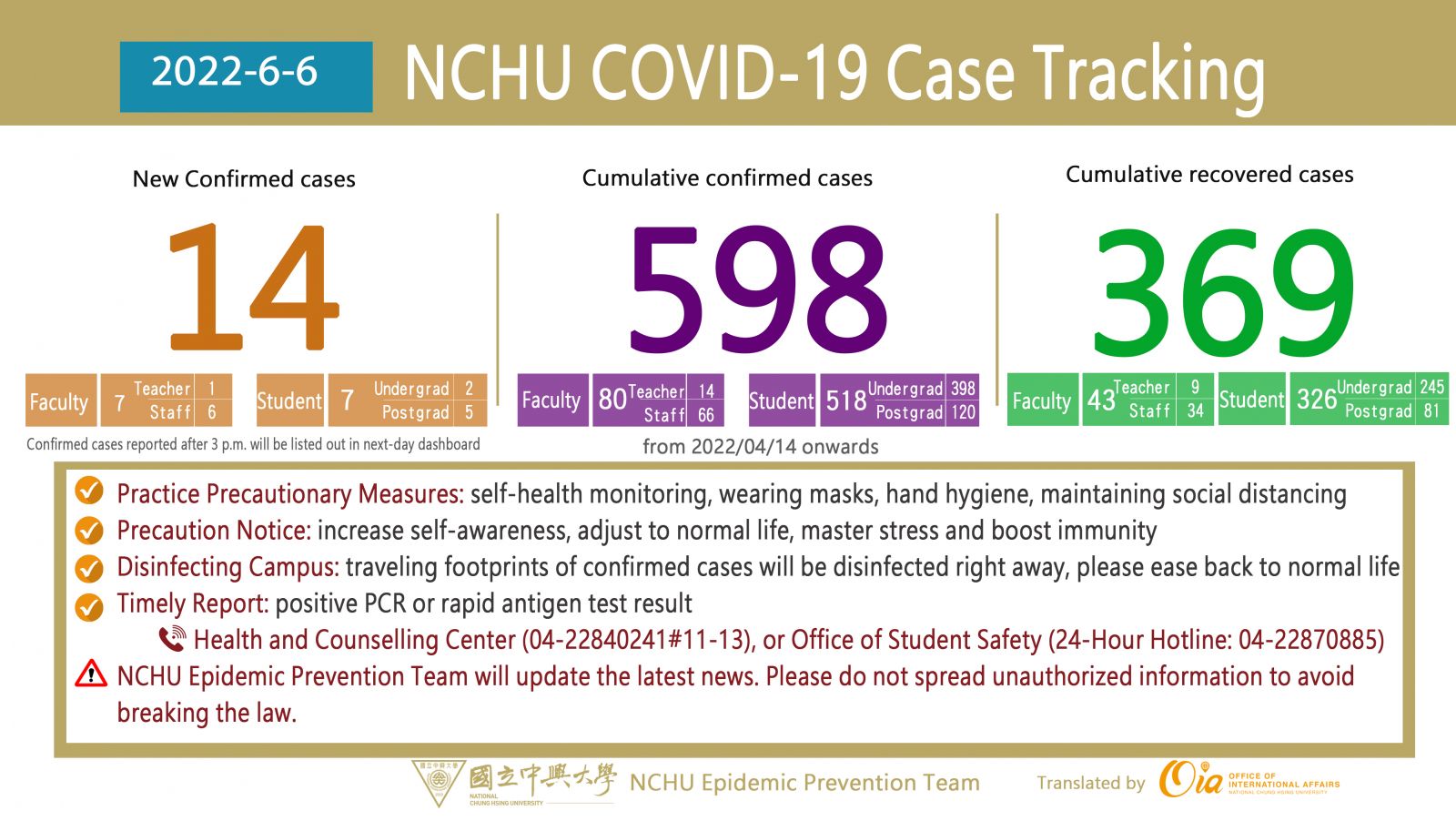 Notice:
Epidemic prevention is like fighting a battle, in order to take care of those students who are unable to come to university because of testing positive, teachers are requested to conduct online teaching or blended teaching methods so that students can learn with peace of mind, be reassured about the access to the right to education, and also protect teachers. If you need assistance, please contact the Office of Academic Affairs.

Among the newly confirmed cases today,

symptoms self-perceive quick screening and the unavoidable risks from clusters of family members and roommates living together

are the main reasons. To relieve the epidemic trend,

please be sure to cooperate with the following matters:
(1) To maintain the health and safety of teachers and students, except for meals, wear a mask when studying or working in the lab.
(2) Teachers or students dine in the lab or office, please reduce talking as much as to each other.
Advice for eating first, and then chatting after dining, time-sharing, and partitioned dining for reducing the risk of COVID-19 transmission.
(3) As recently the confirmed cases are retrospectively listed as close contacts, a high proportion is those who live with them, and the next is those who eat together. Therefore, teachers and students are reminded again to avoid unnecessary multi-person dinners or gatherings; when hosting events or meetings, we strongly recommend avoiding unnecessary dining or gatherings to reduce the rapid transmission risk of the virus.
Individuals who test positive from either antigen tests or PCR must report to the Office of Student Safety (24-Hour Hotline: 04-22870885) immediately

so that the school can conduct follow-up epidemic prevention management and epidemic investigation. If there is no special reason for delaying the reporting of confirmed cases, which seriously affect the safety of campus epidemic prevention, the punishment may be discussed in accordance with the Regulations for National Chung Hsing University. Student Rewards and Penalties (Article 9, paragraph 3) and will be aggravated punishment depending on the circumstances.
Back