Indian Senator pays a visit to NCHU deepening Taiwan-India partnership
Source: Translated by Yu-Ying Chen, Office of International Affairs of NCHU
A member of the Indian Parliament visited National Chung Hsing University (NCHU) through special diplomatic arrangements on 11th October 2022 and was welcomed by NCHU President Fuh-Sheng Shieu. After this meeting, we look forward to more opportunities for future cooperation between Taiwan and India.
There are around 2300 students who come from India to Taiwan every year. Due to the impact of the pandemic, fewer in-person international activities are allowed; therefore, among these, 33 are studying at NCHU. Deputy vice president for the Office of International Affairs, Prof. Hsi-harng, and Director of the Division of Academic Exchange, Prof. Yun-Ju Chen, accompanied by two Indian visiting scholars and 16 Indian international students, all attended the meeting. The Indian senator also took the opportunity to meet with the Indian students to learn more about their studies and life in Taiwan and the difficulties they encountered during the pandemic outbreak, which was particularly meaningful at the moment.
President Fuh-Sheng Shieu said that NCHU has had a long history in central Taiwan and will soon celebrate its 103rd anniversary. In addition to the official establishment of the medical school this year, the university also established a branch in Nantou and founded the Academy of Circular Economy, which aims to consolidate three required fields--new agriculture, innovative technology, and green semiconductor. Through cooperation between industry and academia, we envision a net-zero environment in the future; meanwhile, by laying a solid foundation for Taiwan's circular economy industry, we hope to attract more students to study at NCHU.
Indian senator Mr. Sujeet Kumar said Taiwan has long had bilateral exchanges with India. Through this meeting with the Indian students in NCHU, we can better understand the needs of students and hope that the Indian government will not only focus on English language acquisition but also provide Indian students with other options like basic Chinese language classes so that it will be easier to adapt to campus life in Taiwan.
The long-term collaboration and hand-in-hand cooperation between NCHU and India are putting forward new opportunities for academic, educational, and cultural exchanges. Associating the higher education policies between Taiwan and India, NCHU welcomes more outstanding and talented Indian students to apply to the university. It is believed that this meeting not only witnesses the friendship and results from our previous exchange but also opens a new chapter for our future cooperation.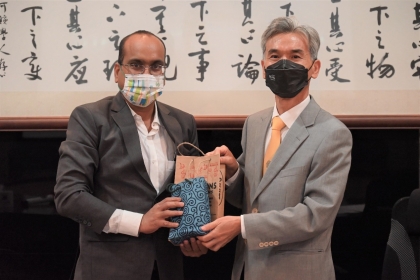 NCHU President Fuh-Sheng Shieu (left) welcome Indian Parliament MR. Sujeet Kumar.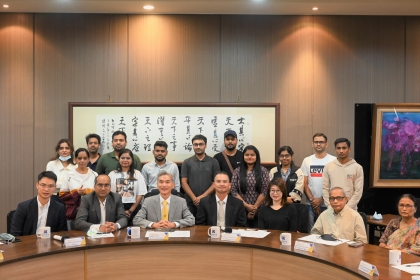 From the left to the right: Ministry of Foreign Affairs Mr.David Hsu ,Indian Parliament MR. Sujeet Kumar, NCHU President Fuh-Sheng Shieu, Deputy vice president for the Office of International Affairs Prof. Hsi-harng, Director of the Division of Academ
Back