National Chung Hsing University partners with University of Belize to deepen bilateral exchange and cooperation.
2022-10-19 16:51:26
興新聞張貼者
Source: Translated by Yu-Ying Chen、Lei Shih, Office of International Affairs of NCHU
National Chung Hsing University (NCHU) and University of Belize (UB) signed a Memorandum of Agreement on Academic Cooperation on October 19th, 2022, to form a partnership, laying the foundation for future academic exchange and subsequent cooperation.
Belize is located on the east coast of Central America and is one of the current diplomatic partners of the Republic of China (Taiwan). Belize has diverse cultures and languages, with English being the official language. The delegation from the Overseas Community Affairs Council, Republic of China (Taiwan) paid a visit to NCHU and learned about NCHU's recent industry-academia collaboration and research on July 14th, 2022, which in turn perpetuated further academic exchanges between the two universities.
Due to the pandemic, the Signing Ceremony was conducted via conference call, signed by NCHU President Dr. Fuh-Sheng Shieu and UB President Dr. Vincent Palacio; witnessed by NCHU Vice President Dr. Fuh-Jyh Jan, NCHU Vice President for International Affairs, Dr. Chia-Lin Chang, NCHU Dean of Office of Research of Development, Dr. Jenn-Ming Song, NCHU Dean of College of Engineering, Dr. Ming-Der Yang, and NCHU Dean of College of Life Sciences, Dr. Chieh- Chen Huang, NCHU Vice Dean of College of Agriculture and Natural Resources, Dr. Shaw-Yhi Hwang, NCHU Office of International Affairs Academic Exchange Director, Dr. Yun-Ju Chen, UB Vice President Dr. Sherlene Enriquez-Savery, UB Director Mr. Egbert Irving, UB Board of Trustee Chairman Mr. Anthony Sylvestre, UB Chair of Academic Committee, Dr. Fred Shyu; Ambassador of the Republic of China (Taiwan)to Belize, Hon. David Kuan-Chou Chien, and Ambassador of Belize, H.E. Ambassador Candice Augusta Pitts.
Dr. Fuh-Sheng Shieu, President of NCHU, said that NCHU has had a long history in central Taiwan and would celebrate its 103rd anniversary at the end of the month. NCHU officially established the College of Medicine this year, set up a branch in Nantou, and established the first Academy of Circular Economy in Taiwan; moreover, the university focused on three key areas: new agriculture, innovative technology, and green semiconductors. In the future, it will create a vision of net-zero carbon emissions through industry-university cooperation. The picture lays a solid foundation for Taiwan's circular economy industry, attracts more students to study, and cultivates relevant talents in Taiwan.
Dr. Vincent Palacio, President of the UB, introduced that UB was established in 2000. It was the only national university in Belize due to the merging of several schools. UB was committed to fostering the development of Belize by developing socially and ecologically responsible, confident, disciplined, ethical, and skilled communicators.
Ambassador Chien Kuan-Chou of the Republic of China (Taiwan) in Belize expressed his gratitude for attending the online academic cooperation memorandum signing ceremony between NCHU and the UB. He was honored to witness the signing. Ambassador Chien also delivered a memorable speech to thank the two universities for their efforts to enhance the educational cooperation between Taiwan and Belize. He was looking forward to seeing a deepening partnership.
Ambassador of Belize to the Republic of China (Taiwan), H.E. Candice Augusta Pitts, said that the Belizean students studying in Taiwan were quite diverse and came from all over Belize. Based on their long-term goals, these students decided on their areas of expertise before coming to Taiwan to study and experience different thinking mindsets and practices; meanwhile, they proactively interacted with Taiwanese society through academic exchanges and communication.
Taiwan has been awarding scholarships to Belizean students since 1999, which creates abundant educational opportunities every year, from which 500 Belizean students benefitted. Further, there had been 8 of them completing their academic pursuit at NCHU so far. By signing the academic cooperation agreement, NCHU hopes to give full play to its vital academic strengths in zoology, botany, and agricultural biotechnology and strengthen interlinkage with Belize not only to make more Belizean students learn about NCHU's academic achievements but boost exposure in the global study-abroad market and create more opportunities for cultural exchange between the two countries.
From left to right: Dr. Chieh- Chen Huang、Dr. Shaw-Yhi Hwang、Dr. Chia-Lin Chang、President Fuh-Sheng Shieu、Vice President Dr. Fuh-Jyh Jan、Dr. Jenn-Ming Song、Dr. Ming-Der Yang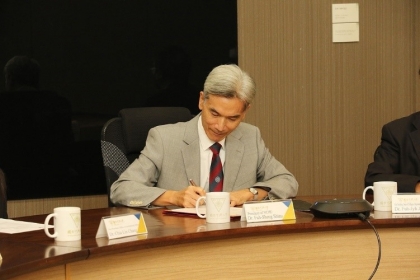 President Fuh-Sheng Shieu signing Memorandum of Agreement on Academic Cooperation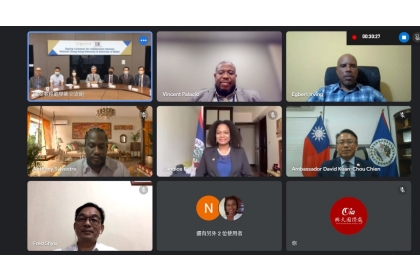 From up left to up right: delegates from NCHU、President Dr. Vincent Palacio、Mr. Egbert Irving、Mr. Anthony Sylvestre、Ambassador Candice Augusta Pitts、Ambassador Kuan-Chou Chien、Dr. Fred Shyu、Dr. Sherlene Enriquez-Savery
Back