"Soaring the Andes-Indigenous Music of America" held by Office of International Affairs, expanding the audience's horizons
Source: Translated by Yu-Ying Chen, Office of International Affairs of NCHU
Office of International Affairs (OIA), National Chung Hsing University (NCHU) coordinated the musical event– "Soaring the Andes-Indigenous Music of America" presented by the Bolivian band, J. Andes Group, and was held in front of the Hui-Sun Hall on November 10, 2022. More than two hundred people took part in the activity and enjoyed the vibrant atmosphere. J. Andes Group came from Bolivia, a country in west-central South America consisting of numerous members from the same musical family. Warrior dance, powerful vocals, and harmonious chorus together made the performance a wonderful feast for the audience. In addition, traditional musical instruments such as La Antara, Zampona, and hide drum showcase the authentic beauty of Andean tribes.
Meanwhile, the band introduced their traditional costumes as well, hoping to let the audience learn more about the Andean tribes and aboriginal culture. The band also interacted with the audience by inviting them to come on stage, play musical instruments, or dance with them. Incidentally, OIA had designed an online quiz contest that whoever took it would get a chance to win a delicate handmade craft offered by the band.
Vice President for International Affairs, Prof. Chia-Lin Chang, who greatly enjoyed the performance stated that music, as the most direct mean, was definitely bridging cultures.
OIA had coordinated the singing contest "The Global Tune" for NCHU's 103rd-anniversary celebration last month and was joyful to have J. Andes Group perform indigenous music from America for NCHU faculty and students. The event served as another opportunity for us to learn more about indigenous culture in South America.
"Soaring the Andes-Indigenous Music of America" is one of the events from OIA's "My NCHU Era" activity, in which OIA has designed a series of different events inviting NCHU faculty and students to join and experience exotic cultures. OIA has been devoted to bringing the world into the campus, so please stay tuned to our website for more information on our upcoming events.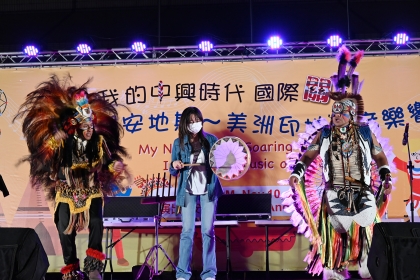 "Soaring the Andes-Indigenous Music of America" held by Office of International Affairs, expanding the audience's horizons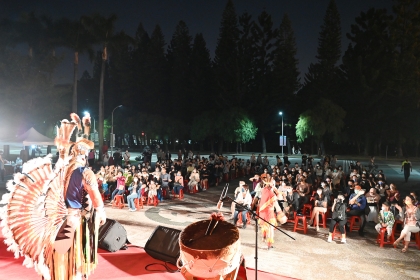 "Soaring the Andes-Indigenous Music of America" held by Office of International Affairs, expanding the audience's horizons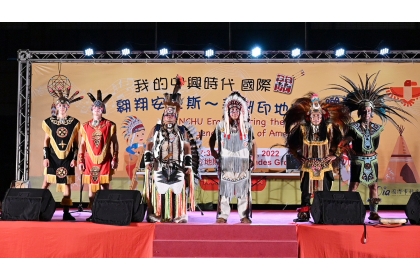 "Soaring the Andes-Indigenous Music of America" held by Office of International Affairs, expanding the audience's horizons
Back