USU and National Chung Hsing University to Unite Engineering Disciplines
Source:2022-12-13/Utah State University
Utah State University and National Chung Hsing University in Taiwan are opening the door for students to complete a collaborative Ph.D. program at both universities.
USU and NCHU will provide prospective students the chance to earn a dual degree from the USU College of Engineering and the NCHU College of Engineering within five engineering disciplines — biological, environmental and civil, electrical and computer, engineering education and mechanical and aerospace. NCHU will also offer programs in chemical and precision engineering as well as materials science.
"We are pleased to have the opportunity to further the education and research of our students," said Rose Hu, Associate Dean of the College of Engineering. "National Chung Hsing University is a great school and we look forward to the future collaborations this agreement creates."
Over the past year, NCHU obtained approximately $143 million for the Higher Education Sustained Progress and Rise of Universities in Taiwan Project from the Ministry of Education. This project aims to enhance the quality of universities and encourage multi-faceted development while helping universities elevate their international competitiveness and build leading research centers. NCHU was also recently included in The Program on Bilingual Education for Students in College by the Ministry of Education as a key training institution.
"These achievements show that we are not only developing university features but are also aggressively enhancing our engineers' international competitiveness," said Ming-Der Yang, Dean of the NCHU College of Engineering. "We believe cooperation with USU will bring us fruitful benefits."
NCHU has worked with USU since 2011 and recently formalized an agreement in 2018 to collaborate on work in plant, soils, environmental and climate sciences in USU's College of Agricultural Sciences.
In the past students from NCHU have excelled in their studies at both universities, and USU faculty have already begun building collaborations through courses and seminars. USU also hosts summer group study opportunities in Taiwan where students learn about culture and research at NCHU.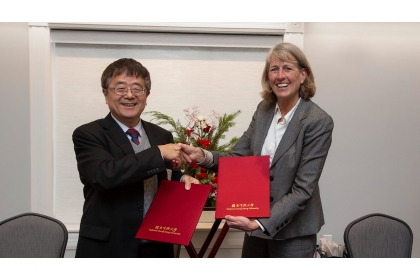 USU President Noelle Cockett and NCHU Vice President and Dean Fuh-Jyh Jan celebrate the signing of an agreement between USU and NCHU that creates a joint Ph.D. program in engineering disciplines.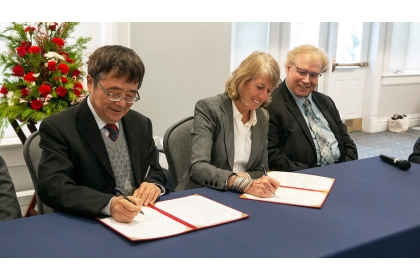 NCHU Vice President Fuh-Jyh Jan (left) and USU President Noelle Cockett sign the joint agreement between USU and NCHU for a collaborative Ph.D. program in engineering disciplines. USU Vice Provost of Graduate Studies Richard Culter (right) also signed.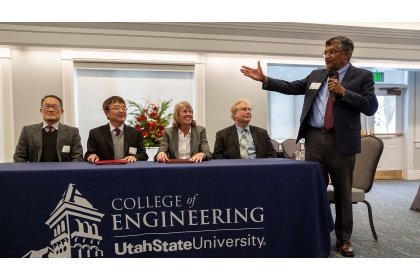 USU College of Engineering Dean Jagath Kaluarachchi (right) signed an agreement with (from left) former NCHU College of Engineering Dean Guo-Jen Wang, NCHU Vice President Fuh-Jyh Jan and USU President Noelle Cockett that creates a joint Ph.D. program in e
Back