Penghu Cimei Couple Tree Strings up the Predestined Affection between the Three Places
A Couple Tree connects the predestined affection between the two sides of the Pacific Ocean. There is a Couple Tree in Cimei, Penghu, that echoes the Twin-Hearts Stone Weir. It is a commemorative couple tree planted by Dr. Tzong-Ru Lee, Professor of the Department of Marketing, National Chung Hsing University and President of International Association for Agricultural Sustainability (IAAS), for Professor Vijay P. Singh of Texas A&M University in the United States in 2020. During this month (April, 2023) when Professor Singh participated in the National Chung Hsing University International Symposium on Natural Disaster Prevention and Control, he paid a special visit to Cimei and visited the Couple Tree symbolizing him and his late wife Anita for the first time. Professor Singh was deeply moved.
Professor Singh is an expert in water resources, ranking 14th in the Earth Science Area in the United States and 28th in the world. In 2020, Professor Tzong-Ru Lee invited Professor Singh to the symposium. However, Professor Singh could not make it because he just lost his wife, and just then Professor Lee happened to know that Changhua Flower-and-Tree Bank had been promoting tree planting and greening in the community of Cimei Township, Penghu County in recent years. Professor Lee consulted the Flower-and-Tree Bank, expressing his intention to plant two trees connecting into a Couple Tree for Professor Singh in the romantic and beautiful Cimei Township to symbolize the unswerving love and heart-to-heart bond. The Couple Tree was planted, and Professor Lee has regularly sent photos of the growing trees to Professor Singh since then.
The Couple Tree is situated in the park of Xihu Village, Cimei Township. During the recent 3 years, the Flower-and-Tree Bank has sponsored saplings and subsidized small amounts of money to provide the elderly in the community for a loving heart lunch fund. The Community Development Association and community residents were invited to jointly adopt and take care of the Couple Tree. This time when Professor Singh visited Cimei, he also expressed his gratitude in person to the community residents.
Professor Singh was born in India. Although he has been teaching in the United States for the past 44 years, he cares much for his home country. He founded five schools in India including an elementary school, a junior high school, a senior high school, a degree college, and a vocational school where 20 teachers are employed to educate 800 students. The schools' operation is funded by Professor Singh. To support Professor Singh's educational philosophy, IAAS donated NT$100,000 as a response. Any financial help will be highly appreciated.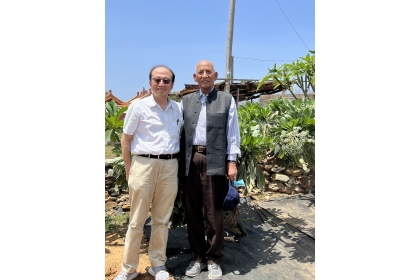 Professor Vijay (right) and Professor Tzong-Ru Lee went back and forth between Taichung and Qimei in one day to visit the meaningful Couple Tree.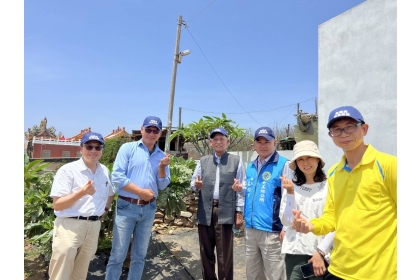 From left to right: Professor Tzong-Ru Lee Professor of Marketing Department of NCHU; Mr., Chun-Yin Kuo, founder of Changhua flower-and-tree bank; Professor Vijay of Texas A&M University in USA; Mr. Chi-Chun Lu, Cimei Township chief of Penghu county; Mrs.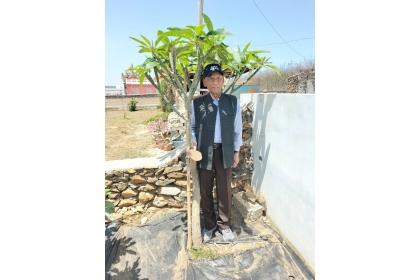 Professor Vijay Singh visited the Couple Tree and was very moved.
Back