Predestined Affection out of Insects across Taiwan and Japan National Chung Hsing University Held a Specimen Donation Gratitude Ceremony
The 80-year-old retired Professor Kokichi Hatta of Nagoya Women's University in Japan has donated more than 20,000 insect specimens to National Chung Hsing University since 2009. He has been visiting Taiwan for specimen collections for more than ten years, and he visits the Museum of Entomology, NCHU to communicate with teachers and students almost every year. Although he was unable to arrive in Taiwan due to the epidemic in recent years, Professor Hatta together with Japanese specimen collectors, Takasaki Yasuro and Nobuhiro Yoshidain, still donated approximately 26,000 specimens and books to National Chung Hsing University in 2021.
In 2023, by virtue of epidemic mitigation, Professor Hatta embarked on a trip to Taiwan. On May 10, National Chung Hsing University specially held a Specimen Donation Gratitude Ceremony for him, and several selected representative specimens were displayed for the Ceremony attendees.
Professor Hatta's main focus of research on the monitoring of aquatic insects in the environment has maintained his enthusiasm for the collection, classification and identification of various insects. He donated 15,000 specimens in 2009 and 2011. In 2021, on Professor Hatta's recommendation, Takasaki Yasuro, a staff member of the Investigation Center of Insect Red Data Book of Aichi Prefecture, donated a quite complete collection of Japanese dragonfly specimens, while Nobuhiro Yoshida, an insect specimen collector at Nagoya, donated the butterfly and dragonfly specimens from Japan, Indonesia, Myanmar and Peru. Among those specimens, the earliest ones were the dragonfly specimens collected in 1932 by Ichirou Matsui who was the famous Japanese dragonfly collector. Nobuhiro Yoshida passed away due to illness during the donation period in 2021. This batch of collected specimens arriving in Taiwan from afar for permanent preservation is considered more precious.
As Professor Hatta pointed out, he has visited Puli, Taiwan many times to collect specimens since he was a student, and he wrote his bachelor's thesis on the topic of exploration of the variation of scarabs on the islands distributed between Japan and Taiwan. Although he knew National Chung Hsing University during his school years, he was very surprised and touched when he visited Museum of Entomology of the Department of Entomology, NCHU in 2007 to find that specimens were very well maintained in the Museum and that the specimens collected by his senior teacher Ishi Gen Ho and others were also preserved in the Museum. Hence, he decided to donate specimens, too. Professor Hatta has not only donated all the specimens collected by him in the early days but has also been continuing to organize other specimens because he hopes to donate his life-long collection to National Chung Hsing University in the future.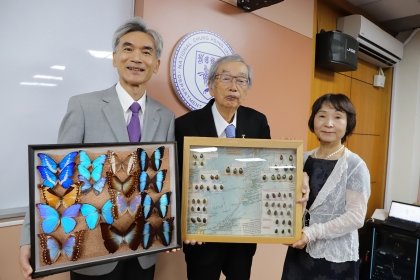 Predestined Affection out of Insects across Taiwan and Japan National Chung Hsing University Held a Specimen Donation Gratitude Ceremony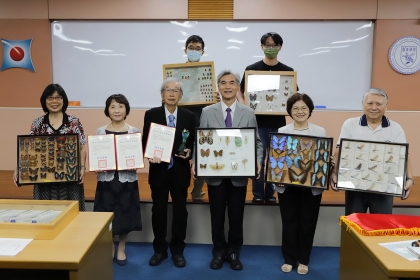 Predestined Affection out of Insects across Taiwan and Japan National Chung Hsing University Held a Specimen Donation Gratitude Ceremony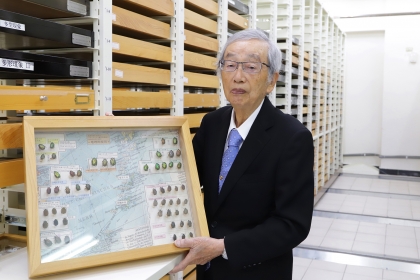 Predestined Affection out of Insects across Taiwan and Japan National Chung Hsing University Held a Specimen Donation Gratitude Ceremony
Back