Taiwan's National Chung Hsing University Welcomes USU Delegation After Pandemic Pause
Source:2023-6-16/Utah State TODAY/Lynnette Harris
There are many virtual ways to connect with far-away places and people. That's one lesson the pandemic offered. However, virtual "visits" can't match meeting people face-to-face, exploring new places, learning about different ways of addressing common human and environmental issues, and building collaborations and friendships.
A group of Utah State University faculty members and students recently did all of those things and more during a transformative visit to National Chung Hsing University (NCHU) and other sites in Taiwan. The visit rejuvenated the relationship between the two universities following a three-year pause due to the pandemic.
Senior Vice Provost Janet Anderson noted the visit's profound impact on USU students.
"The students' curiosity and enthusiasm were palpable," Anderson said. "Immersing themselves in a different culture, engaging with international peers, and broadening their understanding of global agriculture and lifestyle practices provided them with unparalleled opportunities. Such international exposure can deeply influence their academic and personal growth."
Ten students participated in the faculty-led study abroad program sponsored by USU's Office of Global Engagement. The USU team toured several NCHU departments, including the College of Veterinary Medicine and the Language Center. Since the start of a formal collaboration agreement between USU and NCHU, there have been several faculty and student exchanges and guest-lecturer opportunities. Language differences are not impossible barriers in these exchanges since many agriculture and agribusiness courses at NCHU are taught in English.
Andreé Walker, USU Extension's director for county operations, was equally impressed with the students.
"Our students were amazing," Walker said. "Their eagerness to learn was clear, and they showed great potential as candidates for Extension careers in horticulture, animal science and climate science. It was a pleasure to provide insights about Extension, offering them a new perspective on potential career paths."
This most recent visit included fruitful discussions regarding potential collaborations between the NCHU Language Center and the new USU Extension Language Learning program, which was recently awarded a prestigious federal grant from the U.S. National Security Agency's STARTALK program to help Utah's K-12 and college students to study Mandarin Chinese.
Exploring Taiwan's vibrant chocolate industry was another highlight of the visit. USU food scientist Silvana Martini said the immersive experience into the local Taiwanese chocolate industry, from the cacao trees to the chocolate bars, was extraordinary.
"This journey not only expanded our understanding of organic cacao farming and local chocolate production but also highlighted future research collaboration opportunities," Professor Martini said.
The visit focused on expanding collaborations in several fields, including aviation. Aaron Dyches, director of aviation programs at USU, said the collaborations that were forged during the visit hold tremendous potential. Dyches said he sees opportunities for the partnerships to enhance USU students' learning experiences and contribute to advancements in aviation for students from Taiwan.
Professor Simon Wang, responsible for managing Asian academic connections at USU, said: "This successful trip to Taiwan symbolizes our commitment to fostering international connections in higher education. It stands as a testament to the educational power of worldwide collaborations. By strengthening our partnership with NCHU, we're enriching our students' learning experiences and opening doors for academic and cultural exchange."
A significant aspect of the visit involved the faculty team meeting with USU alumni in Taiwan, marking the official launch of the Taiwanese Alumni Association of USU. Brandon Monson, executive director of development for USU's College of Agriculture and Applied Sciences said establishing the Taiwanese Alumni Association marks a significant milestone for the university.
"It strengthens our international community and provides a valuable network for our alumni in Taiwan," Monson said. "This occasion underscores the far-reaching impacts of a USU education."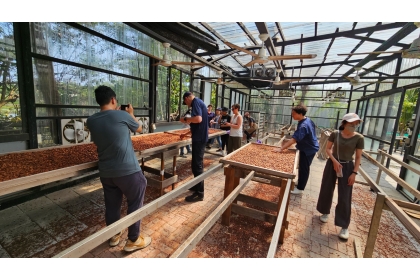 Some of the USU delegation traveled to southern Taiwan to tour an organic cacao farm and begin discussions about possible collaborations with USU's food science department and the Aggie Chocolate Factory.(Utah State University)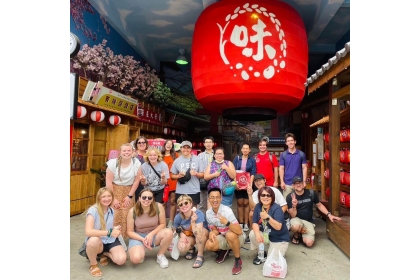 Students and faculty enjoyed classes focused on culture, food, and agricultural and climate sciences and experienced many aspects of life in Taiwan.(Utah State University)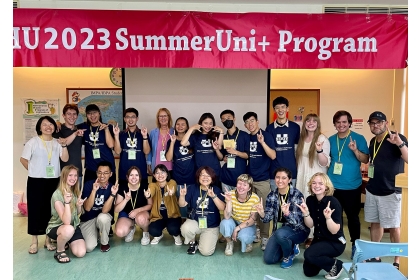 U State T-shirts were among the gifts USU students and faculty presented to their hosts at the start of this year's National Chung Hsing University summer study abroad experience.(Utah State University)
Back