Promoting Educational Bonds: Superintendent of ILTexas explores partnership with NCHU
Translated by Jennifer Chen, Office of International Affairs
To implement the "Taiwan-US Education Initiative" and enhance the visibility of Chinese language teaching at National Chung Hsing University (NCHU), Ms. Shu-Ya (Andrea) Yang, Director of the Education Division of Taipei Economic and Cultural Office in Houston, invited Mr. Eddie Conger, Superintendent of International Leadership of Texas Public Charter School (ILTexas), to visit NCHU on July 5th.
International Leadership of Texas (ILTexas) is a public charter school system in Texas that caters to students from elementary to high school levels. It places great emphasis on cultivating students' global awareness and foreign language abilities. Mr. Conger has long been committed to promoting Chinese language learning among ILTexas students and hopes to establish Taiwan as a hub for their overseas language education. Therefore, he has specifically come to Taiwan to assess the Chinese language teaching capabilities of various universities and colleges
Mr. Conger, accompanied by Mr. Li Ting-Whai, a representative of the local Taiwanese community in Dallas, who also serves as the international admissions representative for ILTexas, visited NCHU. They were received by Dr. Chia-Lin Chang, Vice President for International Affairs, and Dr. Kuo-Chih Liao, Director of the International Education Division along with a meeting with President Fuh-Sheng Shiue, engaging in enthusiastic discussions regarding the potential collaboration for American high school students to come study Chinese.
Following the introduction of NCHU by Dr. Chang, Dr. Yi-Ming Shih from the Director of the Chinese Language Center (CLC), and Director Mr. Jia-Xin Lin from Affiliated High School of NCHU along with Ms. Mei-Mei Shih provided briefings on the Chinese Language Center and the international events and students clubs at NCHU Affiliated High School respectively.
In addition, Mr. Conger also visited the Chinese Language Center to observe a class. He had the opportunity to witness the joint high school international Chinese language summer camp organized by the CLC and Utah State University. During the session, teachers led American high school students in making Chinese knots, combining cultural sharing with language learning. Later, Mr. Conger also visited the student dormitories and highly praised the excellent accommodation at NCHU, expressing his eagerness to lead more American high school students to come for language studies and cultural exchange between Taiwan and the United States.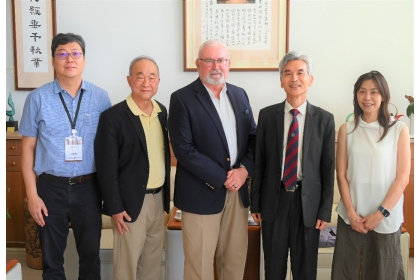 Translated by Jennifer Chen, Office of International Affairs To implement the "Taiwan-US Education Initiative" and enhance the visibility of Chinese language teaching at National Chung Hsing University (NCHU), Ms. Shu-Ya (Andrea) Yang, Director of the Ed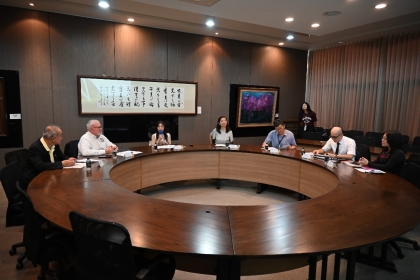 Briefings and exchanges with representatives from NCHU Affiliated High School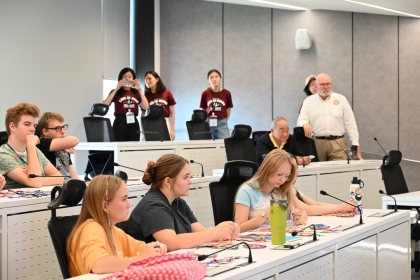 Mr. Conger observed how classes were conducted at CLC
Back